NOVEMBER 2022
** The warm reception given to Martin's book In and out of Bloomsbury: Biographical Essays on Twentieth-Century Writers and Artists, published in hardback by Manchester University Press in July 2021, is documented under JANUARY 2022. Add now:
* Longlisted for the William M B Berger British Art History Prize 2022. * Reviewed online by Mitchell Alcrim of Cambridge, Mass., in Literature Cambridge, 5 June 2022, https://www.literaturecambridge.co.uk/news/mf-smith
While covering a wide array of people and topics, the essays display a remarkably organic quality, seemingly growing out of one another. Smith's erudition and commitment to scholarly rigour are everywhere in evidence. … [He] both instructs and inspires. * Reviewed by Marianne Thormählen of Lund University, in English Studies, 26 September 2022, https://doi.org/10.1080/0013838X.2022.2126595:
Meticulous exploration and documentation … consistently persuasive … a delight from beginning to end. * To be reissued in paperback by Manchester University Press. Details available shortly. ** Martin's next "modern" book, That Brilliant Beautiful Woman: The Genius and Tragedy of the Artist Helen Fry, was delivered to a publisher in September 2022. A summary is provided below under JULY 2022 ("Next book – a story of genius, beauty, and tragedy"). ** Philosophical appointment
Martin has been appointed a member of the Academic Advisory Board of the Turkish journal of philosophy Arkhe-Logos.
JULY 2022
Top-twenty article relevant to the Covid-19 pandemic
"Pandemics, Plagues, and Philosophy: Moral Lessons from Antiquity for the Modern World", Antigone [online classical journal], January 2022. Illustrated.
Epicurean and Stoic philosophers could not offer vaccines or effective medicines to combat plagues and pestilences, but they did offer moral advice to those caught up in such events, and they were concerned to combat the plagues of false opinions that blight the lives and happiness of so many. Their advice is as relevant today as it was in antiquity.
READ HERE: https://antigonejournal.com/2022/01/pandemic-philosophy/
This is one of the twenty most-read articles in Antigone, having attracted about 13,000 readers in six months.
New article on Diogenes of Oinoanda
"Diogenes of Oinoanda: News and Notes XIV (2019-2021)", Cronache Ercolanesi 52 (2022) 383-399. One illustration. A survey of recent work, including details of activities and a critical review of over fifty relevant publications. There is also a tribute to the late Jim Coulton.
NEW! READ HERE: http://www.martinfergusonsmith.com/pdf/CRONACHE.pdf
(The article is made available here by kind permission of the editors of Cronache Ercolanesi,)
Forthcoming publication on Diogenes of Oinoanda
"Die epikureische Inschrift des Diogenes von Oinoanda", in M. Bachmann (†), J. Hammerstaedt, E Laufer (eds), Oinoanda: Ergebnisse der Surveys 2007-2015: Bauforschung, Archäologie, Epigraphik. Expected in 2022/2023 in the "Istanbuler Forschungen" series, published by Deutsches Archäologisches Institut, Istanbul. Illustrated. Co-author with Jürgen Hammerstaedt.
An exposition and discussion of Diogenes of Oinoanda, with particular reference to new discoveries made during the German-led survey of Oinoanda in 2007-2015.
Colloquium on Diogenes of Oinoanda in Muğla
On 10-11 June 2022 a colloquium on Diogenes of Oinoanda, organised by Prof. Dr. H. Nur Beyaz Erkızan, was held at Muğla Sıtkı Köçman Üniversitesi. Muğla is the capital of the Turkish province in which Oinoanda is located. The papers were given by Turkish scholars in Turkish. The colloquium was dedicated to Martin, and a translation of his opening address, on "The Importance of Diogenes of Oinoanda", was read in his absence.
DIOGENES OF OINOANDA COLLOQUIUM, MUĞLA, JUNE 2022
AUDITORIUM DURING MARTIN'S ADDRESS
Photo: ©Levent Erkızan
The holding of the colloquium is testimony to a very welcome growing interest in Diogenes of Oinoanda among Turkish scholars. It is planned to publish the papers with summaries in English.
Most recent book – much in demand!
In and out of Bloomsbury: Biographical Essays on Twentieth-Century Writers and Artists, published in July 2021, sold out in early February 2022 and had to be hastily reprinted. For full details, including reviews, and an order form, see below under JANUARY 2022 AND JULY 2021.
Next book – a story of genius, beauty, and tragedy
Martin is putting the finishing touches to a biography of the artist Helen Fry (1864-1937). The movingly tragic story, never told accurately and in detail before, is of a woman admired for her artistic genius, intellect, personality, wit, and good looks, whose professional career, marriage, and whole life came to be wrecked by schizophrenia, on account of which she was sectioned under the Lunacy Act for the last thirty years of her life. The book throws light on the society and cultural environment in which she lived and worked and suffered. It also throws new light, not all of it favourable, on her husband, Roger Fry, who became the most influential art- critic of the first half of the twentieth century and a central member of the Bloomsbury Group.
JANUARY 2022
Reception of new book, In and out of Bloomsbury: Biographical Essays on Twentieth-Century Writers and Artists, Manchester University Press, 2021.
(1) Selected by Manchester University Press as its "Book of the Month" for September 2021.
READ HERE: https://www.staffnet.manchester.ac.uk/news/display/?id=26901

(2) Reviewed by Vanessa Curtis, author of two fine books about Virginia Woolf, in The Times Literary Supplement, 19 November 2021, p. 21.
Under the title "Bloomsbury blooms", the reviewer writes of Martin: "In this masterful collection of essays, he shines a welcome new light on the oft-told stories of the Bloomsbury Group and their acquaintances, correcting errors, filling in gaps and revealing much 'new' information". Calling him "something of a literary bloodhound", she signals the "sort of dogged, forensic attention to detail that sets [his] Ferguson Smith's book apart from the rest".
(3) Reviewed by Seona Ford, in the Dorothy L Sayers Society Bulletin 278, November 2021, pp. 13-14.
Her judgment: "Carefully researched and scholarly. … The essays are fascinating."
(4) Reviewed by Janet Brennan Croft, in Mythlore: A Journal of J.R.R. Tolkien, C.S. Lewis, Charles Williams, and Mythopoeic Literature 40, no. 1 (18 October 2021), Article 26.
The reviewer focuses, approvingly, on Essays 8-10, about Dorothy L. Sayers and Tolkien's teacher Richard Williams Reynolds.
READ HERE: https://dc.swosu.edu/mythlore/vol40/iss1/26

(5) Reviewed by Wendy Jones Nakanishi, in Virginia Woolf Bulletin 69 (January 2022), pp. 57-63.
She comments: "Smith brings a depth of knowledge and a level of meticulous scholarship to these biographical essays about important literary, artistic and historical figures of the early twentieth century that would be difficult to equal let alone surpass."
READ HERE: www.martinfergusonsmith.com/pdf/69BulletinJonesReview.pdf

August 2021
New article
"The Royal Academy of Arts Students' Clubs, 1883-1902," The British Art Journal 22, No. 1 (Spring 2021) 78-88. 14 illustrations.
READ HERE: www.martinfergusonsmith.com/pdf/RA 20Clubs 20BAJ 20XXII.pdf
This link is provided by kind permission of the editor of The British Art Journal
This tale of two clubs is one that has never been told before. Each club had premises close to Piccadilly Circus. The earlier one, established in 1883, was very short lived, but hosted important and influential lectures on art by Oscar Wilde and James McNeill Whistler. The later one, opened in 1889, held regular meetings, especially smoking concerts – a sure sign that only men were eligible for membership! The exclusion of women is considered alongside discussion of their status and discriminatory treatment in the Royal Academy Schools in the nineteenth century. Most of the illustrations are of the posters and invitations designed by the students.

July 2021
New book
In and Out of Bloomsbury: Biographical Essays on Twentieth-Century Writers and Artists (Manchester: Manchester University Press, 2021). 46 colour and black and white illustrations. Publication: 20 July 2021.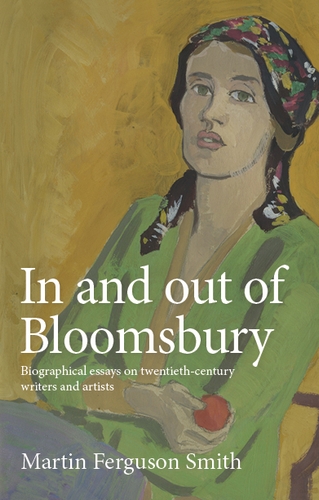 READ HERE: Blog about In and out of Bloomsbury: https://bit.ly/3rkH2X4
JANUARY 2021
1 January 2021 was the centenary of the death of the outstandingly brilliant and successful women's trade union leader Mary Reid Macarthur (born 1880). She was secretary of the Women's Trade Union League from 1903 and then of the National Federation of Women Workers, which she established in 1906. She appears prominently in Martin's biography of her close colleague and friend Madeleine Symons – Madeleine Symons: Social and Penal Reformer, published in 2017. See MODERN, Books.
NOVEMBER 2020
"Fifty Years of New Epicurean Discoveries at Oinoanda", Cronache Ercolanesi 50 (2020) 241-258.
The article chronicles the remarkable story of the Greek inscription set up by the Epicurean philosopher Diogenes of Oinoanda (the longest inscription known from the ancient world) from antiquity to the present, with particular focus on the discoveries and rediscoveries made at Oinoanda in the fifty years 1968-2017. Since 1968, when Martin inaugurated new investigations, huge progress has been made. As he points out:
"The number of fragments [of the inscription] has much more than tripled, from 88 to 305, and the quantity of text has more than doubled, from about 3,550 words to about 8,000. The length of the known parts of Diogenes' inscription is now only slightly less than the combined length of Epicurus' Letter to Herodotus, Letter to Menoeceus, and Principal Doctrines (Kyriai Doxai)."
He concludes:
"Diogenes' inscription … deserves a special place in the history of classical studies as one of the most remarkable documents to have come down to us from antiquity."
In a similar vein, Professor Alexander Verlinsky of Saint Petersburg wrote to Martin:
"I firmly believe that your Diogenes is one of the most outstanding discoveries in classics of the last two centuries."
(E-mail, 12 November 2017, quoted here with the writer's kind permission)
READ HERE:

https://www.martinfergusonsmith.com/pdf/CRONACHEERCOLANES.pdf
AUGUST 2020
"Covid-19 and Greek Philosophy", The Philosophers' Magazine 90 (3rd Quarter 2020) 53-56. An invited contribution to a special issue of the journal (published online and on paper) entitled Thinking Through the Pandemic
READ HERE: http://www.martinfergusonsmith.com/COVID-19 and Greek Philosophy.pdf
Three earlier versions of this article were published in April and June 2020.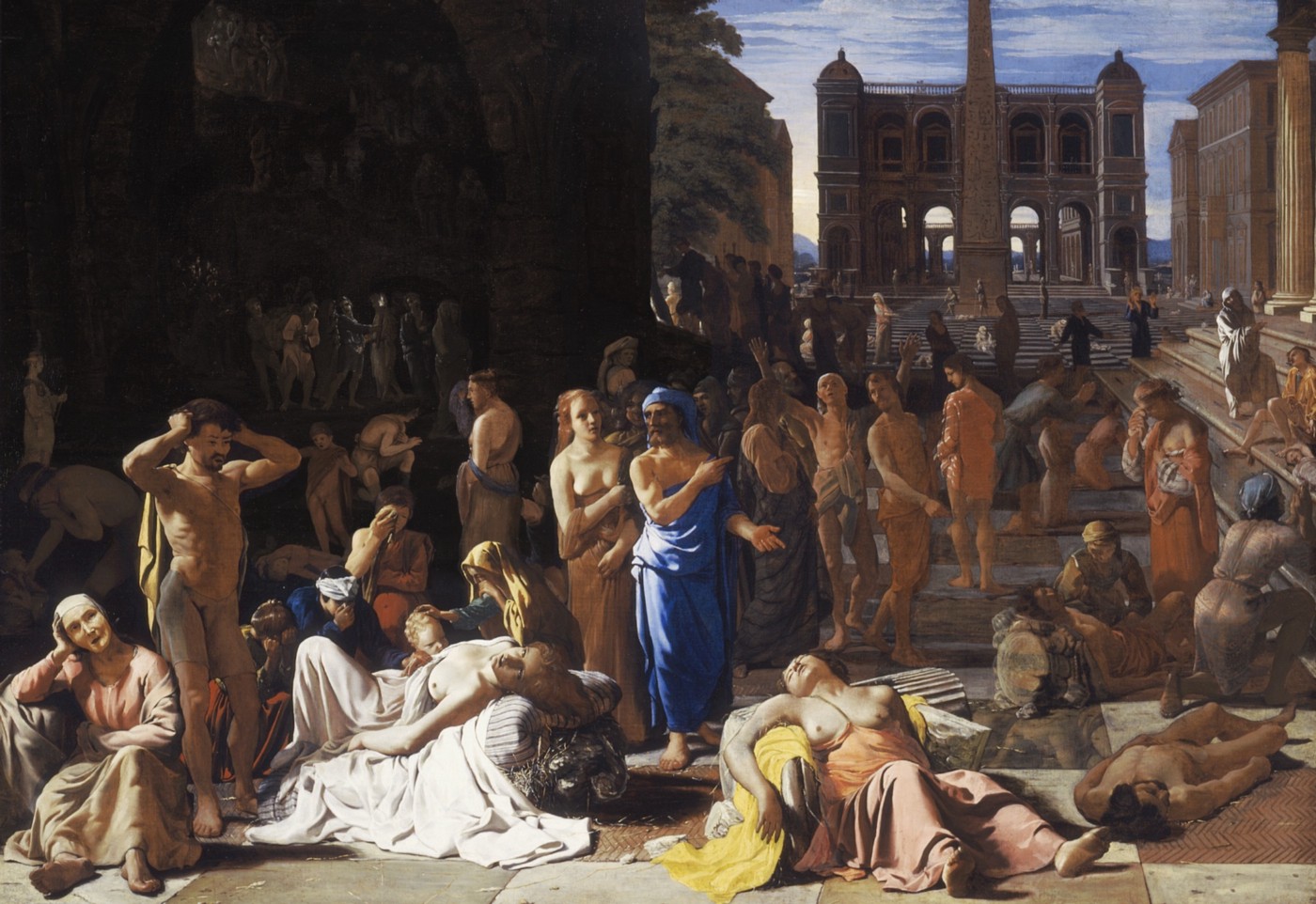 MICHIEL SWEERTS (1618-1674), "PLAGUE IN AN ANCIENT CITY". LOS ANGELES COUNTY MUSEUM OF ART
JULY 2020
On 3 July Martin was elected a Corresponding Member of the German Archaeological Institute (Deutsches Archäologisches Institut) "to acknowledge and commend your contribution to the field of Ancient Studies, and to further strengthen our existing bond". In the latest phase of the investigations at Oinoanda in Turkey (since 2007) Martin has collaborated with German-led teams.
MARCH 2020
"Tribute to Diskin Clay and His Work on Diogenes of Oinoanda", in P. Burian, J. Strauss Clay, and G. Davis (eds), Euphrosyne: Studies in Ancient Philosophy, History, and Literature in Memory of Diskin Clay (Berlin, 2020), pp. 109-111.
JANUARY 2020
"A New Look at Diogenes of Oinoanda, Fr. 157 Smith", Hyperboreus 25, 2 (2019) 351-362. 2 figures.

Contribution to an issue of Hyperboreus dedicated to Alexander Verlinsky, Professor of Classics, State University of St Petersburg, to mark his 60th birthday. The article presents a revised text, translation, and interpretation of a fragment of Diogenes' treatise Old Age - a fragment discovered by Martin at Oinoanda 50 years ago, in 1969.
READ HERE
http://www.martinfergusonsmith.com/pdf/Hyperboreus.pdf
DIOGENES OF OINOANDA, FRAGMENT 157 (SMITH), DRAWING (12:100) © Martin Ferguson Smith
JUNE 2019
The latest new philosophical texts from Oinoanda
Jürgen Hammerstaedt's and Martin's article "Diogenes of Oinoanda: The New and Unexpected Discoveries of 2017 (NF 214-219), With a Re-edition of Fr. 70-72" published in Epigraphica Anatolica 51 (2018) 43-79. Illustrated. The first publication of six new pieces of Diogenes' philosophical inscription recorded at Oinoanda in October 2017. Two of the pieces (NF 214 and 215) are of particularly great interest and importance. The article includes a revised text of three already-known passages.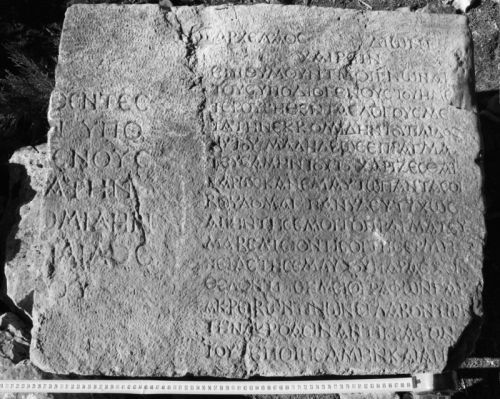 TITLE AND OPENING COLUMN OF THE "NEW" LETTER IN DIOGENES' INSCRIPTION (NF 215)