OCTOBER 2023
New Book
The Artist Helen Coombe (1864-1937): The Tragedy of Roger Fry's Wife.
London: Paul Holberton Publishing for Hogarth Arts. Hardback,
published 1 October 2023.
72 illustrations. ISBN 978-1-913645-53-3,
£45 ($55, €55).
"The story of the talented artist Helen Coombe, wife of Bloomsbury Group member Roger Fry, and of the way her career, marriage, and life were destroyed by mental illness, is meticulously researched and compellingly told"
Professor Wendy Jones Nakanishi
"Highly original and an absolutely key contribution to the convoluted and often muddled history of the Bloomsbury Group – in its widest sense"
Professor Robin Simon
"A brilliantly illuminating, deeply moving, and exceptionally important book"
Professor Linda Elisabeth LaPinta
Helen Coombe was the wife of the artist and art critic Roger Fry, who was to join Virginia Woolf and a dozen or so others in the Bloomsbury Group. Although this highly original book contributes much to knowledge of Roger Fry, it focuses throughout on Helen Coombe's life and work. It reveals a strong-minded individual, who, with little financial support from her family, trained and became established as an artist whose genius won the admiration of her contemporaries. It presents examples of her fine work, including stained glass and decorations of musical instruments. The serious mental illness, which erupted soon after her marriage and was identified long after her death as schizophrenia, was a tragedy for her, for her husband and family, and for British art: in the last 27 years of her life, she never lived at home, never saw her children, and never fulfilled any commissions. There are strong indications that her illness's root cause was genetic, but that it was aggravated by Roger Fry's behaviour. He wanted a wife who would take second place to his artistic career and ambitions. This did not suit her, and in every episode of her illness she turned against him. Two of his later lovers, Vanessa Bell and Josette Coatmellec, also found him "impossible", and, when the latter committed suicide, Virginia Woolf wondered "how long can Roger love a woman without driving her mad".
The book is a "must" for all interested in the Bloomsbury Group, the Arts and Crafts movement, and the handling of mental illness at a time before efficacious antipsychotic drugs were available.
SEPTEMBER 2023
Acclaimed book now in paperback
In and out of Bloomsbury: Biographical Essays on Twentieth-Century Writers and Artists. Manchester: Manchester University Press, first published in hardback in July 2021, re-issued in paperback, 27 June 2023. 46 illustrations. ISBN 978-1-5261-7193-1, £20.00 ($29.95).
"Delightfully written essays packed with revelations"
Professor Robin Simon, editor of The British Art Journal
"A wealth of colourful new material"
Professor Odin Dekkers, former editor of English Studies
"Fascinating essays"
Professor Mark Hussey, distinguished Bloomsbury scholar
"Masterful"
The Times Literary Supplement
"A delight from beginning to end"
English Studies
"Both instructs and inspires"
Literature Cambridge
*Longlisted for the William M.B. Berger Prize for British Art History 2022
Diogenes of Oinoanda paper in Turkey (Türkiye)
Martin was invited to be an honorary guest at the Mavi Anadolu Felsefe Sempozyumu (Blue Anatolia Philosophy Symposium), held in Bodrum (ancient Halikarnassos), Turkey, on 24-25-26 April 2023. The theme of the symposium was:
"Yaşam için Felsefe" : Muğlalı/Oinoandalı Diogenes'ten P. Hadot'ya ["Philosophy for Life" : From Diogenes of Muğla/Oinoanda to P. Hadot].
Martin's paper, entitled "Diogenes of Oinoanda away from Oinoanda"
and read in Turkish in his absence, mentioned Diogenes' inclusion of material derived directly or indirectly from the historian Herodotus, Halikarnassos's most famous cultural figure. But it focused most attention on Diogenes' links to the island of Rhodes and Epicurean communities in mainland Greece, before concluding with mention of the philosopher's philanthropic and cosmopolitan attitudes and their value to the modern world.
Diogenes of Oinoanda, new
"Oinoandalı Diogenes Önemi" (çev. Serena Nur Erkızan), Arkhe-logos, Cilt 8, Sayı 15 (ağustos 2023). In Turkish.
The text of a paper contributed to a colloquium in Muğla, Türkiye, in June 2022. See below, under JULY 2022.
Diogenes of Oinoanda, forthcoming
"Diogenes of Oinoanda Fr. 65 + Fr. 78: A Join Enabled by Digital Models",
Epigraphica Anatolica
55 (2022) forthcoming 2023. Illustrated. With Jürgen Hammerstaedt.
Digital scans prove that fr. 78 is a piece broken off from fr. 65, a damaged block of
Diogenes' Letter to Antipater.
The two are brought together for the first time, and a revised text and interpretation of the passage is presented. It seems most likely that Diogenes is criticising a view of our world held by the Stoics, using a polemical argument similar to that of Lucretius 1.1052-1113.
"Die epikureische Inschrift des Diogenes von Oinoanda", in M. Bachmann (†), J. Hammerstaedt, E Laufer (eds),
Oinoanda: Ergebnisse der Surveys 2007-2015: Bauforschung, Archäologie, Epigraphik.
Expected in 2024 in the "Istanbuler Forschungen" series, published by Deutsches Archäologisches Institut, Istanbul. Illustrated. With Jürgen Hammerstaedt.
An exposition and discussion of Diogenes of Oinoanda, with particular reference to new discoveries made during the German-led survey of Oinoanda in 2007-2015. In German.
JULY 2022
Article relevant to the Covid-19 pandemic
"Pandemics, Plagues, and Philosophy: Moral Lessons from Antiquity for the Modern World", Antigone [online classical journal]. January 2022. Illustrated.
Epicurean and Stoic philosophers could not offer vaccines or effective medicines to combat plagues and pestilences, but they did offer moral advice to those caught up in such events, and they were concerned to combat the plagues of false opinions that blight the lives and happiness of so many. Their advice is as relevant today as it was in antiquity.
READ HERE: https://antigonejournal.com/2022/01/pandemic-philosophy/
New article on Diogenes of Oinoanda
"Diogenes of Oinoanda: News and Notes XIV (2019-2021)", Cronache Ercolanesi 52 (2022) 383-399. One illustration. A survey of recent work, including details of activities and a critical review of over fifty relevant publications. There is also a tribute to the late Jim Coulton.
READ HERE: http://www.martinfergusonsmith.com/pdf/CRONACHE.pdf
(The article is made available here by kind permission of the editors of Cronache Ercolanesi,)
Colloquium on Diogenes of Oinoanda in Muğla
On 10-11 June 2022 a colloquium on Diogenes of Oinoanda, organised by Prof. Dr. H. Nur Beyaz Erkızan, was held at Muğla Sıtkı Köçman Üniversitesi. Muğla is the capital of the Turkish province in which Oinoanda is located. The papers were given by Turkish scholars in Turkish. The colloquium was dedicated to Martin, and a translation of his opening address, on "The Importance of Diogenes of Oinoanda", was read in his absence.
DIOGENES OF OINOANDA COLLOQUIUM, MUĞLA, JUNE 2022
AUDITORIUM DURING MARTIN'S ADDRESS
Photo: ©Levent Erkızan
The holding of the colloquium is testimony to a very welcome growing interest in Diogenes of Oinoanda among Turkish scholars. It is planned to publish the papers with summaries in English.
August 2021
New article
"The Royal Academy of Arts Students' Clubs, 1883-1902," The British Art Journal 22, No. 1 (Spring 2021) 78-88. 14 illustrations.
READ HERE: www.martinfergusonsmith.com/pdf/RA 20Clubs 20BAJ 20XXII.pdf
This link is provided by kind permission of the editor of The British Art Journal
This tale of two clubs is one that has never been told before. Each club had premises close to Piccadilly Circus. The earlier one, established in 1883, was very short lived, but hosted important and influential lectures on art by Oscar Wilde and James McNeill Whistler. The later one, opened in 1889, held regular meetings, especially smoking concerts – a sure sign that only men were eligible for membership! The exclusion of women is considered alongside discussion of their status and discriminatory treatment in the Royal Academy Schools in the nineteenth century. Most of the illustrations are of the posters and invitations designed by the students.

JANUARY 2021
1 January 2021 was the centenary of the death of the outstandingly brilliant and successful women's trade union leader Mary Reid Macarthur (born 1880). She was secretary of the Women's Trade Union League from 1903 and then of the National Federation of Women Workers, which she established in 1906. She appears prominently in Martin's biography of her close colleague and friend Madeleine Symons – Madeleine Symons: Social and Penal Reformer, published in 2017. See MODERN, Books.
NOVEMBER 2020
"Fifty Years of New Epicurean Discoveries at Oinoanda", Cronache Ercolanesi 50 (2020) 241-258.
The article chronicles the remarkable story of the Greek inscription set up by the Epicurean philosopher Diogenes of Oinoanda (the longest inscription known from the ancient world) from antiquity to the present, with particular focus on the discoveries and rediscoveries made at Oinoanda in the fifty years 1968-2017. Since 1968, when Martin inaugurated new investigations, huge progress has been made. As he points out:
"The number of fragments [of the inscription] has much more than tripled, from 88 to 305, and the quantity of text has more than doubled, from about 3,550 words to about 8,000. The length of the known parts of Diogenes' inscription is now only slightly less than the combined length of Epicurus' Letter to Herodotus, Letter to Menoeceus, and Principal Doctrines (Kyriai Doxai)."
He concludes:
"Diogenes' inscription … deserves a special place in the history of classical studies as one of the most remarkable documents to have come down to us from antiquity."
In a similar vein, Professor Alexander Verlinsky of Saint Petersburg wrote to Martin:
"I firmly believe that your Diogenes is one of the most outstanding discoveries in classics of the last two centuries."
(E-mail, 12 November 2017, quoted here with the writer's kind permission)
READ HERE:

https://www.martinfergusonsmith.com/pdf/CRONACHEERCOLANES.pdf
AUGUST 2020
"Covid-19 and Greek Philosophy", The Philosophers' Magazine 90 (3rd Quarter 2020) 53-56. An invited contribution to a special issue of the journal (published online and on paper) entitled Thinking Through the Pandemic
READ HERE: http://www.martinfergusonsmith.com/COVID-19 and Greek Philosophy.pdf
Three earlier versions of this article were published in April and June 2020.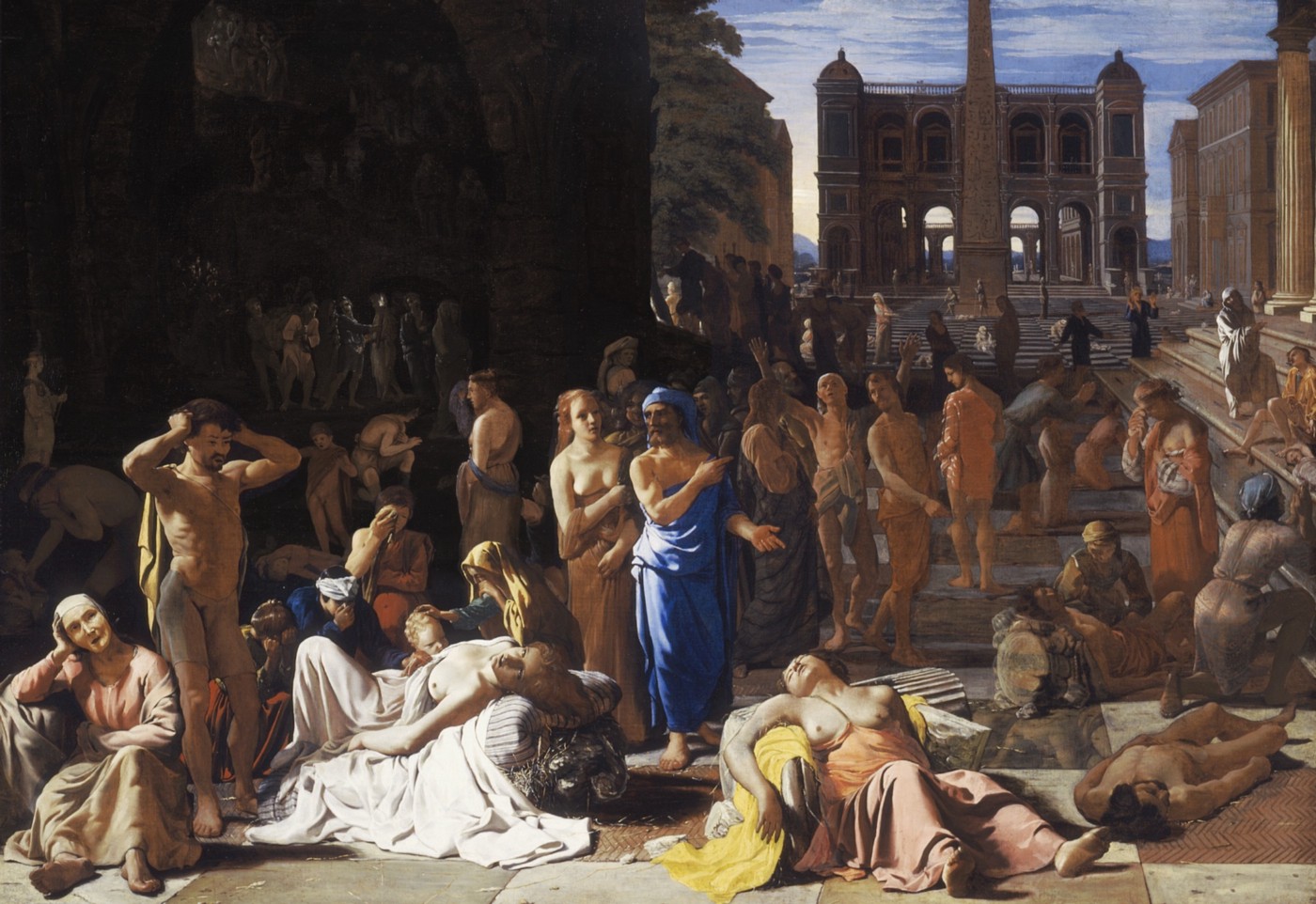 MICHIEL SWEERTS (1618-1674), "PLAGUE IN AN ANCIENT CITY". LOS ANGELES COUNTY MUSEUM OF ART
JULY 2020
On 3 July Martin was elected a Corresponding Member of the German Archaeological Institute (Deutsches Archäologisches Institut) "to acknowledge and commend your contribution to the field of Ancient Studies, and to further strengthen our existing bond". In the latest phase of the investigations at Oinoanda in Turkey (since 2007) Martin has collaborated with German-led teams.
MARCH 2020
"Tribute to Diskin Clay and His Work on Diogenes of Oinoanda", in P. Burian, J. Strauss Clay, and G. Davis (eds), Euphrosyne: Studies in Ancient Philosophy, History, and Literature in Memory of Diskin Clay (Berlin, 2020), pp. 109-111.
JANUARY 2020
"A New Look at Diogenes of Oinoanda, Fr. 157 Smith", Hyperboreus 25, 2 (2019) 351-362. 2 figures.

Contribution to an issue of Hyperboreus dedicated to Alexander Verlinsky, Professor of Classics, State University of St Petersburg, to mark his 60th birthday. The article presents a revised text, translation, and interpretation of a fragment of Diogenes' treatise Old Age - a fragment discovered by Martin at Oinoanda 50 years ago, in 1969.
READ HERE
http://www.martinfergusonsmith.com/pdf/Hyperboreus.pdf
DIOGENES OF OINOANDA, FRAGMENT 157 (SMITH), DRAWING (12:100) © Martin Ferguson Smith
JUNE 2019
The latest new philosophical texts from Oinoanda
Jürgen Hammerstaedt's and Martin's article "Diogenes of Oinoanda: The New and Unexpected Discoveries of 2017 (NF 214-219), With a Re-edition of Fr. 70-72" published in Epigraphica Anatolica 51 (2018) 43-79. Illustrated. The first publication of six new pieces of Diogenes' philosophical inscription recorded at Oinoanda in October 2017. Two of the pieces (NF 214 and 215) are of particularly great interest and importance. The article includes a revised text of three already-known passages.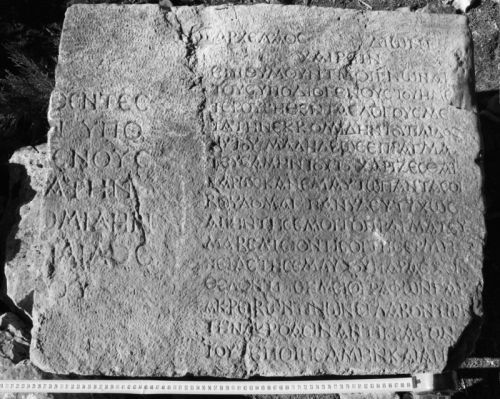 TITLE AND OPENING COLUMN OF THE "NEW" LETTER IN DIOGENES' INSCRIPTION (NF 215)